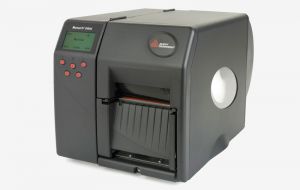 Monarch 9906
The right choice for retailers or distribution centers printing less than 10,000 labels or tags per week, including:
Shipping labels
Replacement tags
Routing labels
Compact, Sleek and Quiet
The compact design of the 9906 ensures it fits into some of the tightest workspaces in distribution centers and retail stores. Its design and low-noise printing output avoid disruption to the retail customer experience.
Elevates Brand
Prints identical replacement tags that are indistinguishable from the tags applied at the source. Customers won't be able to tell if the item has been retagged.
Decreases Downtime
The unique ribbon tensioning system means fewer parts to maintain and replace, reducing costs and avoiding downtime in your inventory control process.
Data Stream Flexibility
Full range of connectivity options, including RS-232, USB 2.0, Ethernet and wireless 802.11b/g networking. Material handling options including liner peel, liner take-up, and ticket and tag cutting.
Sustainable
Energy Star rated, reducing your impact on the environment, saving on energy and costs.
Download de PDF
---
« Lijst